Les centres éducatifs fermés : de la clôture institutionnelle à l'espace éducatif
Relying on a non-carceral spatial closure and several constraints, French CEF (Custodial and Educational Facilities) host minors under penal orders. The item investigates effects of spatial and mental closure on both young inmates and staff members in terms of "total institution" (Goffman). It is not an absolute orderbut is attuned in various ways.I Intermediate spaces host "secondary adjustments", sometimes breaking rules but often enabling educational and schooling leverages for the staff outside institutional boundaries. However, effects of this paradox on youths' socialisation hence remain awkward.
Los cef (Centres éducatifs fermés - Centros educativos cerrados) franceses acogen a menores que la Justicia envía allí por motivos penales. Se fundan en un internamiento no carcelario y en una serie de obligaciones. El artículo examina los efectos de la clausura espacial y mental sobre los jóvenes y también sobre el personal empleado en términos de "institución total" (Goffman). La dominación ejercida en esos centros no es absoluta, sino que se ahorma de diferentes maneras y hay espacios intermediarios que se someten a « adaptaciones secundarias », a veces transgresivas, que constituyen instrumentos utilizados por el personal para desarrollar la acción educativa y escolar al margen de los marcos institucionales. Los efectos de esa paradoja sobre la socialización de los jóvenes son, de hecho, inciertas.
Les cef accueillent des mineurs placés par la justice pour des motifs pénaux. Ils sont fondés sur une fermeture spatiale non carcérale et sur une série de contraintes. L'article interroge les effets de la clôture spatiale et mentale sur les mineurs et sur les personnels, en termes « d'institution totale » (Goffman). L'emprise exercée ici n'est pas absolue mais se module de différentes manières et des espaces intermédiaires accueillent des « adaptations secondaires » parfois transgressives qui constituent autant de leviers pour les personnels pour développer l'action éducative et scolaire en marge des cadres institutionnels. Les effets de ce paradoxe sur la socialisation restent de ce fait incertains.
Fichier principal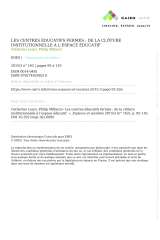 ESP_162_0095.pdf (725.74 Ko)
Télécharger le fichier
Origin : Publisher files allowed on an open archive