Division of labor and competition on the interior design market : approaches to analyzing professional group forms.
Division du travail et concurrences sur le marché de l'architecture d'intérieur
This article provides a historical presentation of creativity assessment from a psychological perspective (since Guilford), from traditional divergent thinking tasks, to current theoretical models of creativity assessment which allow creativity to be assessed in different domains, capturing the multidimensionality of creative potential (e.g. EPoC). These techniques and alternative assessment tools are contextualized by addressing their interest for educational programs which take into account children's needs (as suggested by their creative profile). Finally, we discuss the importance of assessing creativity reliably in the classroom, to study the efficiency of these educational intervention programs aiming to promote student creativity.
Au-delà de la connaissance empirique d'un groupe professionnel singulier mal connu, les architectes d'intérieur, cet article propose des pistes nouvelles d'investigation des dynamiques professionnelles en combinant deux traditions sociologiques, la version néo-wébérienne de la sociologie des groupes professionnels, et la sociologie économique, afin de proposer un modèle d'analyse des groupes professionnels. Cette démarche suppose de considérer que ce sont les formes stabilisées d'organisation des marchés qui donnent aux différentes configurations du groupe professionnel leurs caractéristiques singulières et qui les installent dans un espace de comparaison raisonnée. Il s'agit donc de caractériser les formes successives prises par le groupe des architectes d'intérieur en expliquant l'évolution de la division du travail et des formes de concurrence sur le marché des services et sur le marché du travail de maîtrise d'œuvre depuis les années 1940. Cette réflexion sur l'articulation profession/marchés porte par ailleurs à analyser la configuration professionnelle anglo-saxonne de la « profession établie » comme un mode particulier d'organisation du marché du travail et d'insertion sur un marché de services.
Fichier principal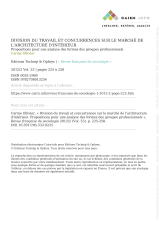 RFS_532_0225(1).pdf (621.83 Ko)
Télécharger le fichier
Origin : Publisher files allowed on an open archive