Comment sortir de prison ? Le rôle des statistiques pénitentiaires dans la compréhension des comportements de récidive
Based on mixed methods, this thesis investigates the social construction of prison statistics. It contributes to econometrics in terms of recidivism behaviors, but also to the sociology of quantification and more broadly to law sociology and economics. It also uses the economics of convention theory. In the first part, we review the existing economic literature about the efficacity of penal sanctions. We then present an original study which shows that convicts who undergo electronic monitoring do re-offend less ceteris paribus than those who have been into jails. In the second part, we analyze how prison statistics are established in detail: how is the data that we have used in our econometric work created? In the third and last part, we explore another blind spot of the econometric method, namely selection bias. How do judges choose who will obtain an alternative to prison?
Combinant méthodes quantitatives et qualitatives, cette thèse examine la construction sociale des statistiques pénitentiaires. Elle apporte une contribution en matière de connaissance économétrique des comportements de récidive, mais aussi en matière de sociologie de la quantification et plus largement de sociologie et d'économie du droit. Elle mobilise également la théorie de l'économie des conventions. Dans la première partie, nous passons en revue la littérature économique existant au sujet de l'efficacité des sanctions pénales, avant de présenter une étude originale montrant que les condamnés ayant bénéficié d'un bracelet électronique récidivent moins ceteris paribus que ceux qui ont été incarcérés. Dans la deuxième partie, nous plongeons dans la fabrique des statistiques pénitentiaires, c'est-à-dire dans les prisons : comment sont fabriquées les données que nous avons utilisées pour nos travaux économétriques ? Dans la troisième partie, nous explorons un autre angle mort des statistiques en nous intéressant au biais de sélection construit dans les tribunaux : comment les juges de l'application des peines choisissent-ils les bénéficiaires d'un aménagement de peine ?
Fichier principal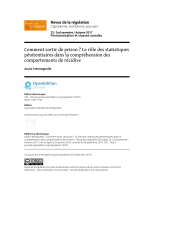 regulation-12570.pdf (157 Ko)
Télécharger le fichier
Origin : Publisher files allowed on an open archive