Efficacité d'un feedback hebdomadaire sur la réduction du poids des ordures ménagères résiduelles
Introduction. – Historically focused on waste sorting, waste management recently integrates its complemen-tary components: reuse and reduction. Objective. –"Pay as you throw" systems are presently fostered by the French prevailing legislation. In thiscontext, our research was designed to assess the relevance of a less coercive approach based on tailoredfeedback.Method. –Thirty-four households took part in the experiment and were divided into two conditions. Hou-seholds in the feedback condition received weekly information about their residual waste weight during14 weeks while those in the control condition received no information.Results. –Households in the feedback condition reduced their waste weight between the baseline period andthe experimental period significantly more than the control condition.Discussion. –Interviews of participants and literature review about the feedback approach enables us tosuggest improvements and relevant futures studies.
Introduction. –Jusqu'alors centrée sur la seule pratique du tri sélectif, la gestion des déchets intègre depuispeu ses composantes complémentaires : réutilisation des biens et réduction à la source.Objectif. – Dans le contexte législatif du développement de la redevance incitative sur le poids des Orduresménagères résiduelles (OMR), notre recherche visait à évaluer la pertinence d'une approche alternativemoins coercitive basée sur un feedback personnalisé.Méthode. – Trente-quatre foyers, repartis en deux conditions ont pris part à l'expérimentation. Les foyers dela condition feedback ont rec¸u durant 14 semaines une information hebdomadaire sur le poids effectif deleurs OMR tandis que ceux de la condition contrôle n'ont rec¸u aucune information.Résultats. –Les foyers de la condition feedback ont réduit le poids de leurs OMR entre la période pré-expérimentale et la période expérimentale significativement plus que ceux de la condition contrôle.Discussion. – L'interview des foyers et l'inventaire des recherches menées sur le feedback permettent deproposer des pistes d'améliorations et des recherches futures.
Fichier principal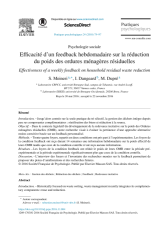 1-s2.0-S1269176316300621-main.pdf (546.52 Ko)
Télécharger le fichier
Origin : Publisher files allowed on an open archive