Faire converger Français sur objectif(s) Universitaire(s) et Français Langue Étrangère pour une meilleure formation des enseignants de langue
This article reports on the experience of 10 years teaching French at Rennes 2 University (France) to international students attending a Master's degree for future teachers of French or English. All the students are still improving their competence in French and use the language for academic communication. Those who are preparing to teach French also conduct linguistic research on the language. The teacher, as a consequence, has to match the goals of both courses: French as Foreign Language and French for Academic Purposes. Students must always be seen as future teachers. Students must be brought to set out linguistic facts precisely by themselves as they will do when teaching, which also helps them to be successful in their studies.
Cet article, issu des actes du Forum Mondial Héraclès 2017 "Promouvoir la langue française et son enseignement en milieu universitaire par le renforcement de la relation formation/emploi" rend compte de l'expérience de dix ans d'un cours de langue française dispensé à l'université Rennes 2 (France) et destiné à des étudiants internationaux de Master futurs enseignants de français ou d'anglais. Pour tous ces étudiants le français, dont le niveau est susceptible d'être encore amélioré, est la langue de la communication universitaire, et pour les futurs enseignants de français, elle constitue aussi l'objet de leur réflexion linguistique. Il s'agit donc, pour faire coïncider les objectifs de ce cours de Français Langue Étrangère et de Français sur Objectif(s) Universitaires(s), de toujours considérer ces étudiants comme de futurs enseignants ; de faire de ce cours un laboratoire où les étudiants sont engagés, quelles que soient leur langue première et celle qu'ils enseigneront, à la réflexivité linguistique ; un lieu d'explicitation et de formalisation qui leur permette de réussir leur cursus, et qui préfigure les classes où ils enseigneront et le rôle qu'ils y tiendront.
Fichier principal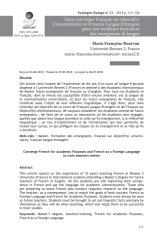 bourvon.pdf (350 Ko)
Télécharger le fichier
Origin : Publisher files allowed on an open archive