This et that dans les domaines spécialisés du corpus ICE-GB : quelles caractéristiques distributionnelles ?
This paper analyzes the distributional characteristics of demonstratives "this" and "that" so as to identify specific uses in relation to specialized domains of English. Data were collected from the ICE-GB corpus. The study consisted in extracting — oral or written — samples from sub-corpora linked to a specialized domain. The author classified the sub-corpora according to whether they corresponded to general English or to the medical, scientific and technological domains. For each sub-corpus, ICECUP was used to make queries and extract the number of occurrences of the demonstratives according to their syntactic function. Grammatical function (i.e., determiner, pro-form, adverb, complementizer or relative pronoun) was used to establish exact counts of a particular form in relation to a specific sub-corpus representing a specialized domain. The statistical results show a limited correlation between the demonstratives and the domains at a global level, but some specific functions do have a substantial link with particular specialized domains. The study reveals marked trends regarding the use of demonstratives in their pro-form function
Cet article analyse les caractéristiques distributionnelles des deux démonstratifs « this » et « that » afin d'identifier des usages spécifiques en fonction de domaines spécialisés de l'anglais. Les données sont collectées dans le corpus ICE-GB. L'étude consiste à échantillonner le corpus en sous-corpus, en fonction du domaine spécialisé et du mode écrit ou oral des textes. Les sous-corpus relevant de l'anglais général sont distingués de ceux relevant de domaines spécialisés (médecine, science et technologie). Pour chaque sous-corpus, l'outil ICECUP est utilisé pour effectuer des requêtes et extraire le nombre d'occurrences des démonstratifs en fonction de leur catégorie grammaticale : déterminant, pro-forme, adverbe, complétif et pronom relatif. La distinction par catégorie vise à compter le nombre exact d'une forme particulière en fonction d'un sous-corpus spécifique représentant un domaine. Les résultats statistiques globaux montrent une corrélation limitée entre les démonstratifs et les domaines spécialisés. Cependant, certaines catégories grammaticales entretiennent un lien étroit avec un domaine particulier. Enfin, l'étude montre des tendances marquées concernant l'usage des démonstratifs dans leur rôle de pro-forme.
Fichier principal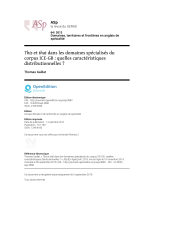 asp-3890.pdf (593.43 Ko)
Télécharger le fichier
Origin : Publisher files allowed on an open archive