The values transferred to us by Don Quixote and Sancho Panza
Didáctica (Lengua y Literatura) Los valores que nos transmiten Don Quijote y Sancho Panza
Les valeurs transmises par Don Quichotte et Sancho Panza
Given the current need to instil values essential to the social interactions between the members of the same educative community, we should put forward, in our role as teachers, the ways that allow us to reflect on basic behaviour with the aim of improving relationships. In this article, we have shown that the characters of Don Quixote and Sancho Panza transfer universal values which could be discussed preferably with students to improve our conduct. Finally, we suggest an example of this discussion.
Actualmente, dada la necesidad de inculcar valores esenciales de convivencia mutua en nuestro siste-ma educativo, como profesores sería conveniente proponer medios que permitieran una reflexión sobre los comportamientos básicos que deberíamos optar para mejorar nuestras relaciones con los demás. En este artículo se ha encontrado que los personajes de Don Quijote y Sancho Panza transmiten valores o criterios universales que podrían ser discutidos de preferencia con los alumnos para mejorar tal vez nuestra conducta. Finalmente, se propone un ejemplo de esta discusión.
Vu la nécessité de nos jours d'inculquer des valeurs essentielles à la convivialité entre les membres d'une même communauté éducative, nous devrions proposer, en tant qu'enseignants, des moyens qui permettent une réflexion sur les comportements de base dans le but d'améliorer nos relations. Dans cet article, nous avons démontré que les personnages de Don Quichotte et de Sancho Panza transmettent des valeurs universelles qui pourraient être discutées de préférence avec les élèves pour améliorer notre conduite. Nous proposons finalement un exemple de cette discussion.
Fichier principal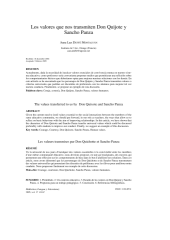 20150-Texto del artículo-20190-1-10-20110603.pdf (144.61 Ko)
Télécharger le fichier
Origin : Publisher files allowed on an open archive