Los universitarios en la tormenta del capitalismo kafkaïano. El caso francés.
As well as telecommunications, the French system of Higher Education and Research (HIR) is deeply restructured from the Pact of Bologna (1999). In the name of a perpetual modernization of public services and a policy of economic austerity, the HIR was dismantled and rebuilt in a record time. The reforms initiated in 2005 with a policy of drastic decrease in teaching positions and senior researchers have a number of effects on the working conditions and employment, and then on the homo academicus. Reorganizations induced by these reforms were, and still are, synonym for all academic staff of increasing of their homework and constant intensification of their workload, that phenomenon is also shown by Spanish or Chilean research. However, with the continuing decline of human and economic resources and the proliferation of conflicting mandates, academics workers face a chronic inability to do well their job. The degradation of their environment as well as the erosion of their work ethic, coupled with disappointment and exhaustion, are psychosocial risk factors. But the multiplication of forms of suffering and warning signs in universities are often invisible in the French academic landscape, which, like the rest of the country, is gradually "latinoamericanized".
Así como las telecomunicaciones, el sistema francés de Educación Superior e Investigación (ESI) está profundamente reestructurado desde el Pacto de Bolonia (1999). En nombre de una modernización permanente de los servicios públicos y de una política de austeridad económica, la ESI fue desmantelada y remodelada en un tiempo récord. Las reformas iniciadas en 2005, junto con una política de disminución drástica de puestos de docentes e investigadores titulares, tienen una serie de efectos sobre la universidad, sus condiciones de trabajo y empleo y luego sobre el homo academicus. Las reorganizaciones inducidas por estas reformas eran-y siguen siendo-para todo el personal sinónimo de aumento de sus tareas e intensificación constante de su carga de trabajo, fenómeno que investigaciones en España o en Chile muestran también. Sin embargo, junto con la disminución constante de los recursos y la proliferación de mandatos contradictorios, los académicos se enfrentan a la incapacidad crónica de hacer bien su trabajo. La degradación del medio universitario tanto como la erosión de la ética laboral, sumados al desaliento y el agotamiento, son factores de riesgo psicosocial. Pero la multiplicación de las formas de sufrimiento y señales de advertencia en las universidades suelen ser poco visibles en el paisaje académico francés, que, al igual que el resto del país, poco a poco se está "latinoamericanizando".
Fichier principal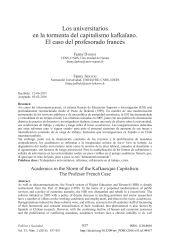 49417-Texto del artículo-105117-3-10-20170407.pdf (387.44 Ko)
Télécharger le fichier
Origin : Publisher files allowed on an open archive