Luis Felipe Noé: pintura y conflicto civil argentino (1820-1830) a través de la Serie Federal
This article analyses the aesthetics of the Argentine painter Luis Felipe Noé and his works' relationship with a critical reading of history. My piece includes the 1961 Serie Federal paintings whose theme refers to the "anarchy of the 1820s" in Argentina. During this period, the country lived a period of great political and military instability, following opposition from the capital Buenos Aires and the provinces. To address this chaotic period of history, which shares similarities with that of the late 50s and early 60s and with the confrontation between Peronists and anti-Peronists, the painter proposed to "assume" chaos, ie Sarmiento overcome opposition and "Civilization or Barbarism" recognized the values of "barbarism" as a manifestation of otherness identity. Noé's aesthetics is one of transgression: he questions the pictorial language and proposes a "barbaric beauty" which questions the traditional message of the painting Argentina gender his work proposes a rereading of history which goes against the grain of the official history.
Este artículo analiza la propuesta estética del pintor argentino Luis Felipe Noé en su relación con una lectura crítica de la historia. Estudia en particular la Serie Federal (1961), cuadros cuya temática se refiere a la "anarquía de los años 1820" en Argentina. En ese periodo, el país conoce una situación de gran inestabilidad política y militar, consecuencia de la oposición entre la capital Buenos Aires y las provincias del interior. Para tratar esa etapa caótica de la historia –en la que ve puntos en común con aquella de fines de los 50 y comienzos de los 60, con el enfrentamiento entre peronistas y anti-peronistas-, Noé propone "asumir" el caos, es decir superar la oposición sarmientina "Civilización o Barbarie", reconociendo los valores de la "barbarie" en tanto que manifestación identitaria de la alteridad. La estética de Noé es de ese modo transgresora: cuestiona el lenguaje pictórico, propone una "estética bárbara", cuestiona el mensaje tradicional de la pintura de género argentina, propone una relectura de la historia a contrapelo de la historia oficial.
Fichier principal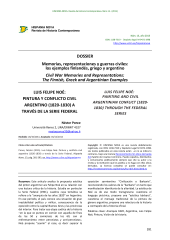 document.pdf (978.92 Ko)
Télécharger le fichier
Origin : Publisher files allowed on an open archive