La Responsabilité Sociale des Entreprises comme Soft Law : Formes et enjeux de régulation, de dialogue et de frontières
This communication proposed for the symposium is related with the theme of Corporate Social Responsibility (CSR). Professional pratices that deal with information and justification use the argument of corporate morality, and according to us this action of communication could not be reduced to a so called action and deserves a theoretical lighting. On the one hand, transmission of information is indeed only the visible face of a regulation policy that has to do with work situations in organizations, and is one aspect of « trust management », which needs to be defined in the past. On the other hand, more exogenous regulation stakes in organizations, in connection with social concerns, deserve, according to us, a lighting which is linked with organizational communication.
La communication proposée pour le symposium s'inscrira dans la thématique de la Responsabilité Sociale des Entreprises. Des pratiques d'information-justification professionnelle passent par l'argument de la morale d'entreprise, et selon nous cette action communicationnelle ne saurait se réduire à une prétendue action et mérite un éclairage théorique. D'une part, transmettre des informations n'est en effet que la face apparente d'une politique de régulation touchant aux situations de travail dans les organisations, et d'un management par la confiance, qu'il convient de resituer théoriquement dans le temps. D'autre part, des enjeux de régulation plus exogènes à l'organisation, en lien avec des préoccupations sociétales, méritent selon nous un éclairage qui passe par le cadre d'analyse de la communication des organisations.
Fichier principal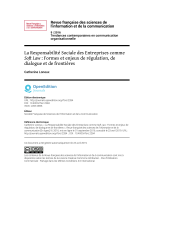 rfsic-2284.pdf (252.32 Ko)
Télécharger le fichier
Origin : Publisher files allowed on an open archive